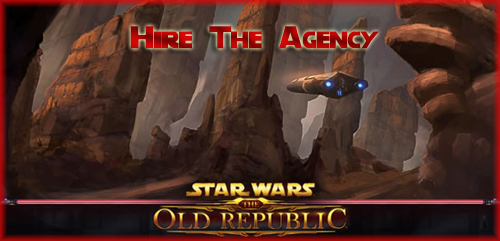 Available For Hire
Edit
For roleplaying purposes it is important for the guild to feel like an actual mercenary agency. This means we are always looking for other guilds to ally with. If your guild is interested in contractually hiring us please visit our website & let us know.
Services
Edit
The Agents of the guild pride themselves on their diversity in performing some of the most difficult tasks imaginable. As such they offer their expertise in the following fields but be warned, with every completed contract comes a hefty fee.
(Updated as TOR classes are revealed)


In alphabetical order:

[Assassinations]
[Black Market Operations]
[Bodyguard/Protection]
[Bounty-Hunting]
[Demolitions & Disposal]
[Diplomacy]
[Espionage]
[Infromation Retrieval/Cyber-hacking]
[Kidnapping]
[Mercenary work]
[Military Operations]
[Rescue / Retrieval]
[Sabotage] (Industrial or otherwise)
[Smuggling]


Current List of Clients:
Edit
Ad blocker interference detected!
Wikia is a free-to-use site that makes money from advertising. We have a modified experience for viewers using ad blockers

Wikia is not accessible if you've made further modifications. Remove the custom ad blocker rule(s) and the page will load as expected.